For our last evening in Berlin we took off to the opening night of Flic Flac, a German version of Circus Oz, or so we thought.
After a spritely walk though Berlin's main rail yard, we finally found the huge yellow tents and the box office. In the space of 15 minutes of walking in and lining up when had scored two sets of free tickets. Turns out, that the the locals in the areas get sets of free tickets to assuage the noise levels they suffer each night during the season. To our great fortune and due to having two cute kids in tow, we saw a tremendous spectacle.
Show included the Globe of Speed, which was a metal latticed ball that, in its grand finale had nine motorcycles tearing around inside. Other risky street acts included rollerblading and BMX bikes doing nutty jumps on fifteen meter ramps. There was also the standard acrobatic feats with a punk attitude and a fantastic trampoline performance based on a brothel!! A single clown interspersed the daredevil activities with great pathos and timing.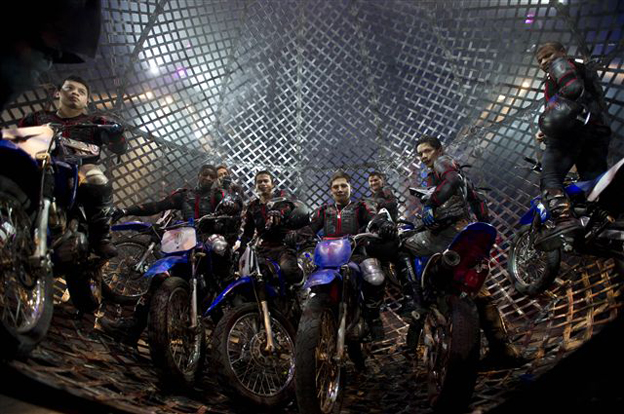 Ball of Speed-
Not sure what they called this one, but I was on the edge of my seat
Massive ramp jumps by rollerbladers, BMX & motorcross bikes